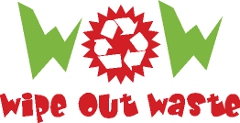 I love my job! That's if you can call being a roving rubbish-busting blogger a job, I suppose it's more of a vocation. However, no matter what you call it, I am just appreciative of the places I end up and the brilliant people I meet in the process.
And this week my adventures took me from the East of England to the West Country, from Suffolk to Somerset, where I teamed up with a host of eco-mentors at a "Welly" Boot Camp for a national schools' award called
Wipe Out Waste
. And trust me, this competition is so cool, Jools Holland has even produced the theme song.
The Wipe Out Waste programme is the brainchild of the fabulous Karen Ford, the founder of its platform organisation
Footprint Friends
, which was launched to raise awareness of environmental issues amongst 10-18 year olds.
Karen Ford, founder of Footprint Friends and Wipe Out Waste
Wipe Out Waste is about reaching out to these children, asking them for innovative ideas that could potentially be pitched to industry or rolled out to all schools to help eliminate waste. And last year's winning entry is a great example of how the competition can really make a difference to participants and industries that are involved.
Ringwood School Hampshire were last year's winners. The team is pictured above with
Yeo Valley
's Graham Keating and eco-mentor Giles Aspinall from The Magdalen Project. It is thanks to their idea and their working relationship with Yeo Valley that the yoghurt manufacturer's HQ was the location for the boot camp.
I witnessed Ringwood School's pitch during last year's Wipe Out Waste finals, which was for yoghurt pots to be made from standardised plastics that would be easy to recycle across the UK. They had already contacted yoghurt manufacturers as part of their research and Yeo Valley welcomed their questions and ideas with open arms. The winning team has since visited Yeo Valley on a number of occasions and has become involved in discussions about improving the plastics used. The team from Ringwood also came along to the Welly Boot Camp as mentors for this year's entrants and it was clear from conversations how both the school and Yeo Valley have benefited from the competition and the direct link-up.
Coming back to this year's shortlisted entrants (pictured below), the Welly Boot Camp was a fabulous opportunity for school teams from right across the country to meet a range of eco-mentors who coached them through confidence improvement tricks, presentation skills, media training as well as offering a chance to brainstorm their ideas with industry professionals.
Schools included: Abbots Hill School, Hertfordshire; Dixon City Academy, Bradford; Hollyfield School Kingston; The Mountbatten School, Romsey; Sidcup School; St. Lukes, Exeter and
St Timothy's, Glasgow.
After such an intensive programme, representatives from each team delivered a brief presentation to the rest of the audience about their experience and what they'd learned from the day. I couldn't help but be struck by their confidence, enthusiasm and was quite overwhelmed by the realisation that standing in front of us were such an amazing range of leaders. We often think that children are the leaders of the future, but actually it became pretty obvious that with their ambition and enthusiastic delivery these young people are actually leaders of today.
I'm now looking forward to the finals, where the shortlisted schools will each get an opportunity to use the skills they learned from this week's boot camp and pitch their ideas to a group of 'green dragons', some of whom were part of the eco-mentor team, including my lovely pal author and broadcaster (and WOW project manager)
Tracey Smith
, the
Carbon Coach
aka Dave Hampton and
Good Energy's Joe Wadsworth
, who are pictured below with the rest of the team.
The only people missing were the guys from media company
Nice and Serious
, who were no doubt off filming somewhere. So it's a good job I'd snapped Tom and Matt at work the night before:
The results of the competition will be announced in the Summer, when the schools get a chance to present their ideas in an environment that is very similar to Dragon's Den. Having chatted to most of the shortlisted schools, I can already see it's going to be a tough decision for the judges.
So watch this space for a summer update and in the meantime why not get prepared to encourage your local school to enter next year...or at least for now join in the Wipe Out Waste sing-song, which you can hear in the video below:
The song is also available to download via
iTunes
.
________________________________________________